I missed out on a lot of blog parties yesterday. I had good intentions to join, but the day just got away from me, and I was just too tired. This pregnancy thing is getting a bit old. So I'm joining late. But I have to tell you, I loved all your name suggestions and have been going through them with my husband. Y'all should write a name book! Thank you so much~I have a few I love, and will let you know the final decision when he makes his appearance!
So, here are some more Christmas touches around my house. For those of you visiting the first time, there are lots more Christmas posts, just go to my
December posts
.
Be sure to check out some great Christmas ideas, tips, and decor at these blog parties: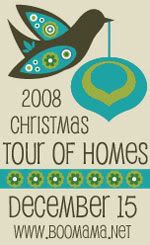 Hooked on Houses tour
My It's a Wonderful Life village:
Target used to sell this collection, and then they discontinued it~sadness. I used to buy one each year after Christmas at the sales to add to my collection, and wish I would have gotten a few more pieces each Christmas. The little sign below says You are Now in Bedford Falls, and do you see the Welcome Home, Harry Bailey sign on city hall?
Christmas tree:
It's pretty simple: just red berry garland, some green/red burlap ribbon, and family ornaments with lots of memories attached. And, of course lots of IAWL ornaments.
I
love
this statue. My mom gave each of her kids one a few Christmas' ago. You will never guess where she got them? Wal-mart. For
19.99
. She saw one at one of her friends' homes and couldn't believe it when she told her where she got it, so she went and bought them out. I've had people mistake it for one of those expensive Lladro statues.
A teddy bear that has been with me a long time...
A little tree topped with some rustic brown bells from the Dollar Tree and some fun Lang vintage Christmas boxes.
if you were the letter "e", where would you be hiding?
Another sentimental piece: I was with my mom when she bought it over 10 years ago. She had written on the back how we got it downtown at a little store and then went out to lunch at a little diner afterward. She gave it to me a few years ago, and I just love it because it has her handwriting on it and the memories.
little red potted trees with a snowflake ornament on top:
Thanks for looking! I'll be back later with a ribbon intervention and some moss fun from Wal-mart. Whaaaa??? I know. You'll see :)