Some GREAT appliance deals going on right now!
We don't "need" a refrigerator, but I know some of you are on the hunt:
Maytag French Door Refrigerator
$1198 + free shipping
Tons more, front loading washers, dryers, other appliances, depends on what you're looking for…other stuff on sale as well!
Sears is also having some spectacular deals! We got this dishwasher:
Kitchenaid Stainless Steel Superba Dishwasher
Energy Star. WAS: $1589 NOW:
$589
C.r.a.z.y! It was rated #4 in Consumer Reports right behind the Bosch's. This also qualifies for the Energy Star rebates in most states to save you even more.
There is also a french door refrigerator at a screaming deal: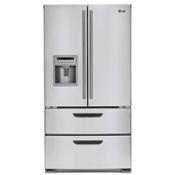 WAS: $2199
NOW: $1199.99
Go get 'em! I would move sooner rather than later. You can see
Black Friday ads here
, but I can't see anything that will have these beat, PLUS you don't have to fight the crowds…