Lindsay is hosting her $5 dollar challenge
and how could I not participate? You know I love finding the possibilities lurking at the dollar store! Here's what I came back from the Dollar Tree with:
a bird:
an unfinished 11X17 frame with 3 openings:
and a 10" coconut basket liner:
First, I tore off some of the coconut liner and shaped it into a (kind of) nest shape and added a few eggs I already had. You could also use some white jellybeans from the dollar store if you don't have any around
Next, I gave the sweet bird a light coat of some leftover heirloom white and let some of the blue show through (and, I just have to add…doesn't this bird just
look
hopeful with her head raised like that? you'll see what I'm talking about below)
I put them together on some old books.
Next, the frame! I got so excited when I saw this size, because it reminded me of something I'd been wanting to try with a favorite Emily Dickinson poem, and how can you beat a dollar even if you mess it all up? I painted the frame a yummy spring green color with some leftover craft paint
Then, for the inside I played around in Microsoft Word with some different fonts and sizes. The word HOPE is in Perpetua Titling MT, size 100, and the lower script is in Palace Script MT, size 72.
I printed it off on an 8.5 X 11 sheet, and then blew it up 170% onto an 11X17 sheet of paper. If your printer doesn't do bigger sizes, you can take your regular piece of paper down the copy shop and have them enlarge it onto an 11X17 for around 25 cents.
I just cut it down to fit in the frame
Put it together,
and we have a spring vignette for around $3!
Breakdown:
Frame $1
Bird $1
Nest from basket liner $1 (you could make a jillion of these from one liner)
Cost of a copy if you have to run down to the copy shop: 25 cents
Eggs: Grab some from around your house or pick up some candy ones at the dollar store
Check out some more fabulous dollar store creations at
Living with Lindsay: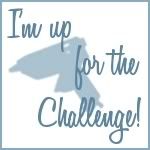 Oh, and P.S.: I have a very important announcement regarding comments! They are BACK ON! Turns out, if I want BlogHer ads running on my site, my posts need to have open comments. So, hello everyone, I've missed you :) The no comment break was good for me time wise, but I really did miss hearing from y'all. Happy Thursday~how are you?? Hope is one of my favorite words. What would we be without hope…

Hope is the thing with feathers
That perches in the soul,
And sings the tune-without the words,
And never stops at all,
And sweetest in the gale is heard;
And sore must be the storm
That could abash the little bird
That kept so many warm.
I've heard it in the chillest land,
And on the strangest sea;
Yet, never, in extremity,
It asked a crumb of me.
~Emily Dickinson